SURPLUS is mixing fashion, visual arts, performance and activism. Our main tools are language and waste.
Manifesto
WTF IS SURPLUS
SURPLUS is a virus is a crack is a reaction is in between is poetry is public is arrogant is angry is tired of is absurd is critical is non binary is not white is sexy is ageless is playful is what you fear is fucking with you and not fucking you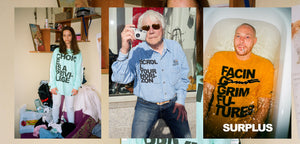 Process
HOW WE DO IT
Every piece of clothing is handpicked and redesigned by the artist. Customized vintage existing in only one copy. Editions of prints are limited and ephemeral. All texts used in SURPLUS are original artwork of Magda Buczek.